how to launch teamspeak 3 as administrator
overview
the how to launch teamspeak 3 as administrator tutorial is used to instruct people on how to start teamspeak 3 correctly on Windows 7
tutorial instructions
step 1

make sure teamspeak is not running
click your Windows® "start button" and look for the text box "search programs and files"
type "teamspeak" into the "search programs and files" text box and wait for the teamspeak 3 icon to appear in the list

step 2

"right click" on the teamspeak icon and select "run as administrator"
if a pop up box appears asking for permission "click yes"
supporting images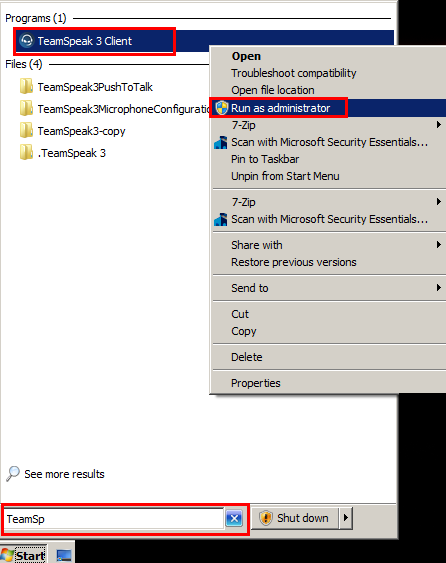 frequently asked questions
what if i am not using Windows®

if you are not using Windows® then this tutorial does not apply to you

nothing appears to be different after i have completed these steps, the program launched normally? was something different supposed to happen?

if nothing appears to have changed, do not worry, but rest assured changes are present, even though it may not appear to have.
page details
page last updated:

2018-07-14 11:27

page created:

2018-07-14 11:27

document version:

1.0
change log
2018-07-14 11:27 - v1.0

created by HeroClass